Reviews
ArtBeat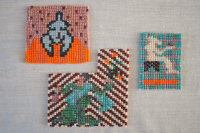 Thieves' Market considers concepts of orientation, spirituality, and acquisition, bringing a contemporary perspective on ancient processes to The National. Areez Katki's intricate beadworks document the artist's ongoing explorations of identity –navigating ancestral traditions of object making, and engaging with inheritances of displaced artefacts and histories.
Pieces catalogue a culture of loss from a Parsi [Persian] New Zealand perspective, commenting on the dispersal of customary practices and cultural ephemera uplifted by colonial violence and migration; but also celebrate acts of reclamation and self-determination, methodologies revisited and learned anew. The first work one encounters upon entering the space is a cluster of jewel-like tapestries, displayed under glass. This illuminated capital raises critiques around museum processes of collection and questions the craft medium as an instrument of connection and communication.
Raised in a Persian Zoroastrian family, Katki has cited an uncertain relationship with the patriarchal religious beliefs of his upbringing, finding a more comfortable vantage in the sphere of domestic textiles. The artist has dedicated the past three years to a study in community engagement, seeking out matrilineal legacies of makers in order to learn the art of weaving tōrans. These woven beadworks offer a compelling vehicle for conversations of heritage.
Such invitingly tactile sites also resonate with lived experience and personal feeling, capturing marks of the maker in repeated motions. Works in Thieves' Market speak to a considered aesthetic and discerning hand, underpinned by an extensive understanding and complete respect for materials.
Katki's images are pixelated, translated into sculptural forms using the same Czech glass beads favoured by his great-grandmother, upon a warp of mercerised cotton. Here, the artist invokes material cultures, landscapes and spiritual iconography from Ancient Persia, Greece and India, alongside intimate scenes of domestic quiet and reflection.
Fourteen deliberatively arranged vignettes of frieze fragments, airily spaced along a narrow shelf, further this sense of timeless suspension. The arrangement of each is calculated, responding to the formal and thematic concerns of its neighbour. Spans of fine-lined graffito still the animated atmosphere of the titular marketplace. Object studies and pencilled annotations stretch across the painted brickwork of the gallery; prices and wares dissolving into gestural lines, scored through, rewritten - recording the imagined 'transactions' of colonial looting in mark making.
Thieves' Market foregrounds nuanced visual story telling picked out upon a contextually rich ground, drawing together personal and postcolonial narratives and objects recalling Parsi traditions of textile making.
DETAILS
Areez Katki, Thieves' Market
The National, 249 Moorhouse Avenue
Christchurch
3 – 27 February
IMAGE
Areez Katki 12018-2021. Czech glass beads, mercerised cotton thread. Courtesy of the artist and The National, Christchurch