Andrew Beck and Shaun Waugh - New Photography at NMG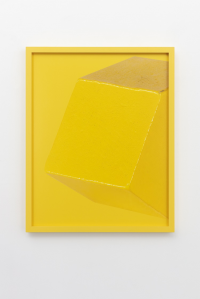 A lemon is a lemon is not a lemon: New Photography at NMG
Writer
Jane Wallace
From the outset, New Photography, an exhibition of Shaun Waugh and Andrew Beck's work, proposes that this is a pairing of practices which share an interest in interrogating the medium of photography from within. Beck and Waugh are recognised as being at its cutting-edge in Aotearoa. Their success signals a renewed interest in lens-based practice, that slippery area of art-making that employs, exploits and disturbs conventions and techniques of photography, producing an image through a process that may not have involved the opening and closing of a shutter on a camera.
Both Waugh and Beck's contributions appear as resolutely geometric— steadfastly formal even.
The kind of new photography that they advocate, hardly resembles what we traditionally understand photography means. The exhibition text for the show proclaims that this is the "anti-image," it abandons depiction at a time when the production and transmission of legible images is our principal mode of communication.
However, this framing of the show obscures the ways in which New Photography engages with its history. Photography has always been about disavowing the medium. What is proposed in New Photography is that Waugh and Beck break from tradition, laying bare the fundamentals of photography's technology. Equally at play here is the need to assert the merits of photography as art. Beck's Distortion, 2019, and Conjunction (Virtual - Real), 2019, extrude from their frames as elongated black-prisms on the gallery wall. These are works which cannot be contained by the frame because the frame itself is empty. To occupy the wall and make the viewer aware of the wall's properties is to continually direction attention to the gallery space, the photograph's presence in it, and Beck's consideration of painting to explain what is essential to photography.
Waugh similarly deceives his audience. A lemon is a lemon is not a lemon in Waugh's works A Ruse (i) and A Ruse (ii), 2019. These are the most delicious works in the exhibition. We witness a ripening and becoming of a lemon, but, in these works, the lemons are only conduits for the fracturing enacted by Waugh's lens and its digital manipulations. The lemon is a yellow object to draw attention to process. Waugh doubles down. Process is not only medium but also subject. His work distorts time and space in order to present a narrative condensed into a single pictorial episode.
I wonder if the notion of lens-based practice only serves to prematurely historicise the work that artists like Beck and Waugh are producing - Photography that co-opts the language of other mediums in order to explain itself? That is what has always been at the core of photography, this curious tension between being itself and being something else. New Photography has a sense of wit that only emerges slowly - new photography for sure, but also old tricks and quiet games.
New Photography
Andrew Beck and Shaun Waugh, New Photography
NMG
8 November – 5 December 2020
IMAGE
Shaun Waugh, Icon Yellow (ii), 2019, archival pigment print within custom painted frame, edition of 3, image courtesy of the artist and NMG