Textile Wednesdays
View all Dates
Wed 21 Apr 2021, 11:00 am - 5:00pm
Linwood Arts
388 Worcester St, Christchurch
Christchurch
Wed 28 Apr 2021, 11:00 am - 5:00pm
Linwood Arts
388 Worcester St, Christchurch
Christchurch
Wed 05 May 2021, 11:00 am - 5:00pm
Linwood Arts
388 Worcester St, Christchurch
Christchurch
Wed 12 May 2021, 11:00 am - 5:00pm
Linwood Arts
388 Worcester St, Christchurch
Christchurch
Wed 19 May 2021, 11:00 am - 5:00pm
Linwood Arts
388 Worcester St, Christchurch
Christchurch
Wed 26 May 2021, 11:00 am - 5:00pm
Linwood Arts
388 Worcester St, Christchurch
Christchurch
Wed 02 Jun 2021, 11:00 am - 5:00pm
Linwood Arts
388 Worcester St, Christchurch
Christchurch
Wed 09 Jun 2021, 11:00 am - 5:00pm
Linwood Arts
388 Worcester St, Christchurch
Christchurch
Wed 16 Jun 2021, 11:00 am - 5:00pm
Linwood Arts
388 Worcester St, Christchurch
Christchurch
Wed 23 Jun 2021, 11:00 am - 5:00pm
Linwood Arts
388 Worcester St, Christchurch
Christchurch
Wed 30 Jun 2021, 11:00 am - 5:00pm
Linwood Arts
388 Worcester St, Christchurch
Christchurch
Wed 07 Jul 2021, 11:00 am - 5:00pm
Linwood Arts
388 Worcester St, Christchurch
Christchurch
Wed 14 Jul 2021, 11:00 am - 5:00pm
Linwood Arts
388 Worcester St, Christchurch
Christchurch
Wed 21 Jul 2021, 11:00 am - 5:00pm
Linwood Arts
388 Worcester St, Christchurch
Christchurch
Wed 28 Jul 2021, 11:00 am - 5:00pm
Linwood Arts
388 Worcester St, Christchurch
Christchurch
Wed 04 Aug 2021, 11:00 am - 5:00pm
Linwood Arts
388 Worcester St, Christchurch
Christchurch
Wed 11 Aug 2021, 11:00 am - 5:00pm
Linwood Arts
388 Worcester St, Christchurch
Christchurch
Wed 18 Aug 2021, 11:00 am - 5:00pm
Linwood Arts
388 Worcester St, Christchurch
Christchurch
Wed 25 Aug 2021, 11:00 am - 5:00pm
Linwood Arts
388 Worcester St, Christchurch
Christchurch
Wed 01 Sep 2021, 11:00 am - 5:00pm
Linwood Arts
388 Worcester St, Christchurch
Christchurch
Wed 08 Sep 2021, 11:00 am - 5:00pm
Linwood Arts
388 Worcester St, Christchurch
Christchurch
Wed 15 Sep 2021, 11:00 am - 5:00pm
Linwood Arts
388 Worcester St, Christchurch
Christchurch
Wed 22 Sep 2021, 11:00 am - 5:00pm
Linwood Arts
388 Worcester St, Christchurch
Christchurch
Wed 29 Sep 2021, 11:00 am - 5:00pm
Linwood Arts
388 Worcester St, Christchurch
Christchurch
Wed 06 Oct 2021, 11:00 am - 5:00pm
Linwood Arts
388 Worcester St, Christchurch
Christchurch
Wed 13 Oct 2021, 11:00 am - 5:00pm
Linwood Arts
388 Worcester St, Christchurch
Christchurch
Wed 20 Oct 2021, 11:00 am - 5:00pm
Linwood Arts
388 Worcester St, Christchurch
Christchurch
Wed 27 Oct 2021, 11:00 am - 5:00pm
Linwood Arts
388 Worcester St, Christchurch
Christchurch
Wed 03 Nov 2021, 11:00 am - 5:00pm
Linwood Arts
388 Worcester St, Christchurch
Christchurch
Wed 10 Nov 2021, 11:00 am - 5:00pm
Linwood Arts
388 Worcester St, Christchurch
Christchurch
Wed 17 Nov 2021, 11:00 am - 5:00pm
Linwood Arts
388 Worcester St, Christchurch
Christchurch
Wed 24 Nov 2021, 11:00 am - 5:00pm
Linwood Arts
388 Worcester St, Christchurch
Christchurch
Wed 01 Dec 2021, 11:00 am - 5:00pm
Linwood Arts
388 Worcester St, Christchurch
Christchurch
Wed 08 Dec 2021, 11:00 am - 5:00pm
Linwood Arts
388 Worcester St, Christchurch
Christchurch
Wed 15 Dec 2021, 11:00 am - 5:00pm
Linwood Arts
388 Worcester St, Christchurch
Christchurch
Community Arts, Gold Coin Event, Community Arts,
Wheelchair access, Accessible toilets, Mobility parking
https://www.instagram.com/linwoodartsandeastsidegallery/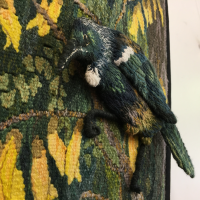 Wednesdays anytime 11am-5pm
Turn up anytime between 11am-5pm either with your own project (and join the friendly bunch of like-minded textile artists), or ask if you can learn something new and our experts will give you a lesson! It might be a particular type of stitching or embroidery, or you might like to learn how to felt, weave or crochet, just let us know! Cost gold coin koha.
Linwood Arts, 388 Worcester St, Christchurch, free onsite parking.
Event Dates
Linwood Arts
Christchurch
388 Worcester St, Christchurch

Wed 21 Apr 2021, 11:00 am
Wed 21 Apr 2021, 05:00 pm
Linwood Arts
Christchurch
388 Worcester St, Christchurch

Wed 28 Apr 2021, 11:00 am
Wed 28 Apr 2021, 05:00 pm
Linwood Arts
Christchurch
388 Worcester St, Christchurch

Wed 05 May 2021, 11:00 am
Wed 05 May 2021, 05:00 pm
Linwood Arts
Christchurch
388 Worcester St, Christchurch

Wed 12 May 2021, 11:00 am
Wed 12 May 2021, 05:00 pm
Linwood Arts
Christchurch
388 Worcester St, Christchurch

Wed 19 May 2021, 11:00 am
Wed 19 May 2021, 05:00 pm
Linwood Arts
Christchurch
388 Worcester St, Christchurch

Wed 26 May 2021, 11:00 am
Wed 26 May 2021, 05:00 pm
Linwood Arts
Christchurch
388 Worcester St, Christchurch

Wed 02 Jun 2021, 11:00 am
Wed 02 Jun 2021, 05:00 pm
Linwood Arts
Christchurch
388 Worcester St, Christchurch

Wed 09 Jun 2021, 11:00 am
Wed 09 Jun 2021, 05:00 pm
Linwood Arts
Christchurch
388 Worcester St, Christchurch

Wed 16 Jun 2021, 11:00 am
Wed 16 Jun 2021, 05:00 pm
Linwood Arts
Christchurch
388 Worcester St, Christchurch

Wed 23 Jun 2021, 11:00 am
Wed 23 Jun 2021, 05:00 pm
Linwood Arts
Christchurch
388 Worcester St, Christchurch

Wed 30 Jun 2021, 11:00 am
Wed 30 Jun 2021, 05:00 pm
Linwood Arts
Christchurch
388 Worcester St, Christchurch

Wed 07 Jul 2021, 11:00 am
Wed 07 Jul 2021, 05:00 pm
Linwood Arts
Christchurch
388 Worcester St, Christchurch

Wed 14 Jul 2021, 11:00 am
Wed 14 Jul 2021, 05:00 pm
Linwood Arts
Christchurch
388 Worcester St, Christchurch

Wed 21 Jul 2021, 11:00 am
Wed 21 Jul 2021, 05:00 pm
Linwood Arts
Christchurch
388 Worcester St, Christchurch

Wed 28 Jul 2021, 11:00 am
Wed 28 Jul 2021, 05:00 pm
Linwood Arts
Christchurch
388 Worcester St, Christchurch

Wed 04 Aug 2021, 11:00 am
Wed 04 Aug 2021, 05:00 pm
Linwood Arts
Christchurch
388 Worcester St, Christchurch

Wed 11 Aug 2021, 11:00 am
Wed 11 Aug 2021, 05:00 pm
Linwood Arts
Christchurch
388 Worcester St, Christchurch

Wed 18 Aug 2021, 11:00 am
Wed 18 Aug 2021, 05:00 pm
Linwood Arts
Christchurch
388 Worcester St, Christchurch

Wed 25 Aug 2021, 11:00 am
Wed 25 Aug 2021, 05:00 pm
Linwood Arts
Christchurch
388 Worcester St, Christchurch

Wed 01 Sep 2021, 11:00 am
Wed 01 Sep 2021, 05:00 pm
Linwood Arts
Christchurch
388 Worcester St, Christchurch

Wed 08 Sep 2021, 11:00 am
Wed 08 Sep 2021, 05:00 pm
Linwood Arts
Christchurch
388 Worcester St, Christchurch

Wed 15 Sep 2021, 11:00 am
Wed 15 Sep 2021, 05:00 pm
Linwood Arts
Christchurch
388 Worcester St, Christchurch

Wed 22 Sep 2021, 11:00 am
Wed 22 Sep 2021, 05:00 pm
Linwood Arts
Christchurch
388 Worcester St, Christchurch

Wed 29 Sep 2021, 11:00 am
Wed 29 Sep 2021, 05:00 pm
Linwood Arts
Christchurch
388 Worcester St, Christchurch

Wed 06 Oct 2021, 11:00 am
Wed 06 Oct 2021, 05:00 pm
Linwood Arts
Christchurch
388 Worcester St, Christchurch

Wed 13 Oct 2021, 11:00 am
Wed 13 Oct 2021, 05:00 pm
Linwood Arts
Christchurch
388 Worcester St, Christchurch

Wed 20 Oct 2021, 11:00 am
Wed 20 Oct 2021, 05:00 pm
Linwood Arts
Christchurch
388 Worcester St, Christchurch

Wed 27 Oct 2021, 11:00 am
Wed 27 Oct 2021, 05:00 pm
Linwood Arts
Christchurch
388 Worcester St, Christchurch

Wed 03 Nov 2021, 11:00 am
Wed 03 Nov 2021, 05:00 pm
Linwood Arts
Christchurch
388 Worcester St, Christchurch

Wed 10 Nov 2021, 11:00 am
Wed 10 Nov 2021, 05:00 pm
Linwood Arts
Christchurch
388 Worcester St, Christchurch

Wed 17 Nov 2021, 11:00 am
Wed 17 Nov 2021, 05:00 pm
Linwood Arts
Christchurch
388 Worcester St, Christchurch

Wed 24 Nov 2021, 11:00 am
Wed 24 Nov 2021, 05:00 pm
Linwood Arts
Christchurch
388 Worcester St, Christchurch

Wed 01 Dec 2021, 11:00 am
Wed 01 Dec 2021, 05:00 pm
Linwood Arts
Christchurch
388 Worcester St, Christchurch

Wed 08 Dec 2021, 11:00 am
Wed 08 Dec 2021, 05:00 pm
Linwood Arts
Christchurch
388 Worcester St, Christchurch

Wed 15 Dec 2021, 11:00 am
Wed 15 Dec 2021, 05:00 pm