Article
ArtBeat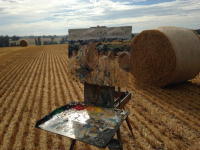 Established 5 years ago the Susan Badcock Gallery was initially located in the back of the old iconic Post Office building on Talbot Street, Geraldine. In 2018 she relocated to the first floor of the building, undergoing a major restoration project, opening it up as a welcoming gallery, with an exhibition space for larger works and a studio for her hand-colouring and photography.
Represented in the Gallery are three Badcocks, an artistic influence that has followed the family for four generations. Susan Badcock, the 4th generation artist works differently to her ancestors, hand-colouring photographs which range from delicate flowers and repurposed road kill to portraits. (Susan's great grandmother, Claudia, also painted watercolours from a loft studio in her house).
John Badcock is a recognised name in New Zealand art, beginning painting with his father, Douglas Badcock, in Queenstown over 45 years ago. He has been working as a professional artist for more than 30 years with numerous public and dealer gallery exhibitions.
John's artwork is identifiable by his heavily applied and sculptured use of oil paint on board. These rich textural paintings illustrate his skill in forming fields of grasses and seeding flowers, stunning portraiture or the bold forms of intricate Victorian architecture from paint that is almost "falling off the canvas".
Douglas was born in Balclutha in 1922 and was Queenstown's first full-time artist, specialising in En Plein Air oil paintings and watercolour, "a realistic painter and absolutely sincere with a natural talent and a high technical standard ... A master of the New Zealand landscape, he painted New Zealand as he saw it".
IMAGES
Susan Badcock, Still Life, photograph
John Badcock, En Plein Air, oil on canvas