Stride by Stride
6 days ago, Mon 22 May 2023, 05:30 pm
Eastside Gallery
388 Worcester St, Linwood, Christchurch
Christchurch
Visual Arts, Painting, Photography, Drawing, Sculpture
Wheelchair Access, Accessible Toilets, Mobility Parking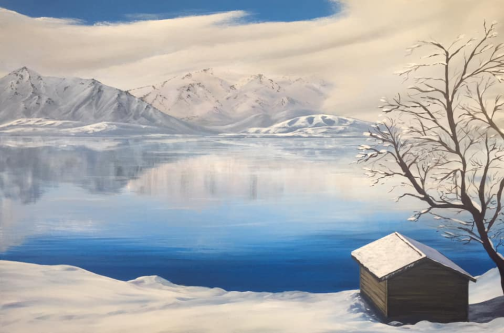 Eastside Gallery warmly invites you to the opening of:
Opening Event: 5.30-7pm Monday 22 May 2023
A show for artists with a moderate amount of exhibition experience. It forms part of what we call our "progressive pathway" of exhibitions, which is designed to offer exhibition opportunities as artists develop. "Stride by Stride" sits between "First Steps" and "Eastside Spring." 18 local artists will take part this year.
Artists include: Lara Pomroy, Katrina McGettigan, Siobhan O'Brien, Angela Laby, Annika Maenpaa, Bryony Bedggood, Karyn Davis, Roseanne Jones, Zachery Hawkins, Deborah Moor, Di Tanner, Amy Couling, Karin Lange, Masako Fisher, Anne Harte, Catherine Brougham, Jo Seizova and Penny Wright.
Images: Katrina McGettigan, "Lake Heron," 2022, acrylic on canvas; Zachery Hawkins, "Streams of Influence," 2023, oil on board; Amy Couling, "Tsubaki," 2021, gouache on paper; Annika Maenpaa, "Untitled," 2023, digital drawing limited edition 1/25; "Autumn Walkway," Roseanne Jones 2023, wax mixed media on board; Siobhan O'Brien, "Offering," 2023, oil on box canvas; "Vaquerez," Lara Pomroy, 2021, acrylic & mixed media.
Exhibition Dates: 22 May - 17 June 2023
Location: Eastside Gallery, Linwood Arts, 388 Worcester St, Christchurch
Opening Hours: Tuesday-Saturday. Galleries 12-5pm. Classes 10am-5pm.
We offer 12 weekly daytime classes, run exhibitions and events in Eastside and the Mini and hire our spaces for arts activities and events evenings and weekends.