Reviews
ArtBeat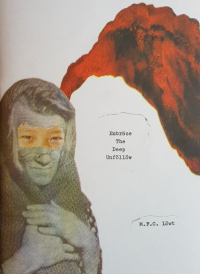 Tony Scanlan, Rage #0
"The average human has been my life's work, but I don't think I've ever actually seen one."
A black and white sketch selection with a cover in the style of the esteemed Mad magazine, Rage collects a handful of veteran local artist Tony Scanlan's skilful pen and ink studies and comic-strip musings, placing illustrated quotes from a cognitive theorist, a bluegrass singer and an indigenous activist amidst portraits of troubled, soulful figures and tidy sequential panels. His appealing, approachable style and exasperated speculations on the rise of conflict and the demise of objectivity evoke the classic underground comics of the late sixties. Scanlan's work is always a treat, world-weary, melancholy, but comforting in its cartoony familiarity.
M.F. C. Löwt, Embräce The Deep Unföllöw
"That blue-balled nymphatic messenger of old school values and demoralized social graces."
Weird chapbooks make fine winter reading, and this assortment of surreal micro-fiction by Christchurch's M.F.C. Löwt is stuffed with charmingly retro tales of lust, violence, pomposity and peculiar mathematics, punctuated by strikingly coloured vintage magazine collages. Vibrantly reproduced at M/K Press on a Risograph digital screen printer, the typewritten text is perfectly suited to Löwtt's bombastic prose, which has shades of Pinter, Burroughs and Brautigan, and takes on a glitchy, dreamlike quality when filtered through the Riso's halftones. This decidedly analogue presentation imbues the stories with a personality that pixels could never duplicate, resulting in a witty, introspective and captivatingly strange little booklet.
Anonymous, Adult Colouring Activity Book
"Alright Picasso - let's start you off nice and easy."
An unsigned collaboration between a Dunedin artist/musician and a Christchurch punk vocalist/property developer, the Adult Colouring Activity Book showcases a series of goofy doodles inspired by the ubiquitous anti-establishment acronym "A.C.A.B." or "All Cops Are Bastards." Whimsical black and white line drawings commence with "A Circle And A Box" and advance in increasingly absurd fashion, depicting the likes of "Ants Climbing A Building," and "Another Clearance At Briscoes" before closing with a politically-slanted word find and a classic porcine police-officer caricature. Spiky, silly, and (sadly) relevant, it's the perfect photocopied gift for your favourite anti-establishmentarian.
All zines available at Ride On Supersounds
172 High Street
IMAGE
1. Tony Scanlan, Raged # 1
2. M. F. C. Lowt, The Deep Unfollow