Tony Bond's Punt. An Encounter with a room full of Visual Conundrums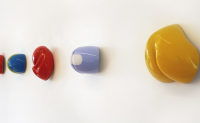 Toby Bond, Punt
You only need to look at the titles that Tony Bond has given to the objects in Punt, to know that this is an invitation to a unique encounter with a room of visual conundrums. 'Punt' could be about taking a chance, gambling on things going right, which feels like a warning from the artist about seeking to unravel the layered complexities of these works. Collectively labeled as 'Spaciphic' objects (numbered from 1 to 13), Bond's pun on 'specific,' holds the promise of an actual reality, but it is one that the artist purposefully side-steps on delivering.
Bond's objects do, however, make perfect sense within the history of his practice and the experience of the ambiguities of what they represent - possibly children's toys, or subjects from a yet-to- screen Anime cartoon, or three-dimensional biomorphic creatures materalising from a Jan Miro painting. The ongoing evolution of Bond's work has something of its origin in a series of playful and similarly confounding wall-sculpture in Bond's 2012 exhibition, Formunculae, at The National -Wall-works that similarly led to the realisation of the shifty unreality and perpetual strangeness of the subjects of Bond's art.
Yet, Punt is also a very different body of work to that from seven years ago. The works in Formunculae were modesty-scaled ceramic objects while those in Punt are industrial, the artist now working with aluminium, silicon, and acrylic lacquer. And in the boldness of its attitude, colour and the assertive presence of its objects on the gallery's walls, Punt assumes the guise of a kind of parade of Pop Art trophies, albeit one without the consumer labels.
There is so much to say about these works, even though the closer you get to resolving them, the more you are held at arm's length. Punt, is a milestone of an exhibition in Bond's practice, confirming that there is much more still to come from this artist.
Tony Bond, Punt
PGgallery192
21 May-14 June 2019