Reviews
ArtBeat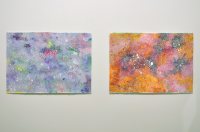 Ed Lust, Choke
Ed Lust has created a considerable body of work for his latest exhibition at City Art Depot. The lower gallery hosts an array of works on paper and the exhibition continues upstairs; Lust's unframed raw edged watercolours interlaced between works by other artists in the stock gallery.
Although he's always been a painter, Lust graduated with a Master of Fine Arts in film from the University of Canterbury. His films – whether abstract projections, music videos or feature length – have always been undeniably painterly while his paintings use light, colour and depth of field in a ways which speak of someone well familiar with the lens as medium. As with a lot of Lust's works; there's an emotional depth to these paintings that goes beyond the formal. The viewer can choose to engage with them on a strictly formal basis or allow the varying hues and feelings of the work to wash over them.
The works are dynamic, colourful and engaging. I felt tugged along the walls by protons and neutrons, one-step two-step dance diagrams encouraging further explorations of petrie dish stills or planetary transits. Comb-tooth fine lines and orbs bled into eachother, constellations choreographed the eye masterfully across the paper and a sense of shifting, swimming focus had me taking pause to appreciate the snippets framed by peepholes on each freckled page.
I enjoyed a conversation with Ed recently about the exhibition which allowed me some poignant insights into the process and emotional states behind the mesmerising pieces. The title of the show is a term coined by the artist for a technique used throughout. Lust layers the watercolour, washing it back to create misty auras staining the paper then over-layers them with individually scribed circle upon circle. He explains: "It's the painting of these enveloping circles that I've come to call choking- because it feels like I'm enforcing negative space, leaving behind subjects."
The demarcation of the circles was a painstakingly contemplative and controlled process. With this in mind, the pieces read less as playful colourfields and more as shadowy cosmoses of thoughts and attitudes, carefully excised and captured on paper. The making of the works was part of a daily painting ritual, a deeply personal one, where Lust worked through his own anxieties in a therapeutic process. The amount of control required to make the works a tangible reminder of his ability to construct various facades – and his ability to reveal more of himself on his own terms.
"The choke works may look like lollies or stars or microscopic worlds but I see them as evidence of mental healing, and the obsessively choked areas are like trapped ruminations...emotionally and mentally I felt like I was compartmentalizing, trapping and defeating my go-to thought patterns... I'm only learning how to share myself again and I think painting is helping me do it."
To risk a cliche, it seems like this series of works is part of a personal, yet universal process in letting the light shine through the facades that we build up over time. The grit and grime that comes from operating while living with anxiety, depression and in a heteronormative system. It's worth mentioning though, that those facades still had glimmers of amethyst dust in them – the queerest quartz of them all.
Ed Lust, Choke
City Art Depot
26th March to 13th April
IMAGE
Ed Lust, Rama, and Blazer, (both watercolour and gouache, 2019)