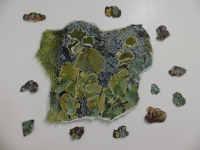 The Professional Weavers Network of New Zealand (PWN) was established in 1991 as a group who recognised the need for a national forum focused on weaving. Ngahere – The Bush of Aotearoa is a survey exhibition from the organisation of tapestry artists, pleased to ensure that their work is a 'tactile' experience, making it possible to touch the weaver's work in the space of the art gallery. The artists confirm that the aesthetic qualities of their tapestries are about colour, woven fabric and materials and a relationship with people that encompasses feeling and touching the objects that they make.
Ngahere – The Bush of Aotearoa also brings together some of its leading weavers, featuring more than thirty-nine stunning artworks, including hand woven textured and gauze fabrics, tapestries, Jacquard weaves, floor rugs and cushions, the exhibition aiming to explore and responds to many aspects of the country's native bush in both materials and subjects. Responding to their experiences of the natural environment, the exhibition reveals a 'kaleidoscope of textures, colours and filtered light, each weaver keeping the textures and colours of the bush of Aotearoa in mind.'
Among the list of prominent participating weavers is Marilyn Rea-Rea-Menzies, whose arts practice has equally engaged with painting, drawing and digital prints, but her specialist area is in fibre art and the creation of spectacular wall hangings. Rea-Menzies' large tapestry works are impressive both for their level of detail and their rendering of native birds. In 2021, Rea-Rea-Menzies tapestries were the subject of a touring exhibition, Extinction is Forever, its itinerary included Pataka Gallery in Porirua.
From the mid-1980s to late 2000s, Rea-Rea-Menzies worked in Ōtautahi Christchurch as a professional tapestry artist, moving to the Waikato after the February 2011 earthquake to be closer to family. Exhibiting in Ōtautahi Christchurch for almost thirty years, she maintained a highly visible presence. In 2000, she was commissioned to weave a tapestry for the millennial celebrations, exhibited in the Christchurch Town Hall up until 2011, this work is now in the foyer of the Christchurch City Council offices. She also created a tapestry screen, commissioned in 2021 by Lady Susan Satyanand (wife of the Governor General, Sir Anand Satyanand) for the drawing room of Government House, which was gifted to the Government at the end of her husband's tenure as Governor General. Many of her works are now held in numerous collections throughout New Zealand and overseas.
Rea-Menzies love of native New Zealand species stemmed from her childhood, and having grown up on the West Coast near the native bush line, she has recently returned there to live.
DETAILS
Professional Weavers Network of New Zealand, Ngahere – The Bush of Aotearoa,
Chamber Gallery Rangiora, 141 Percival Street, Rangiora
4 September - 6 October
IMAGE
Marilyn Rea-Rea-Menzies, Lichen, Tapestry Wall Installation (detail )