Blog
ArtBeat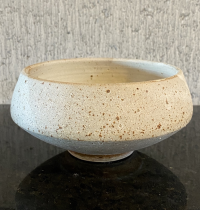 Eastside Gallery Linwood is hosting an exhibition from six artists based in Port Levy, Banks Peninsula, working in a range of media and ideologies, united in their appreciation of the region and its environment. The exhibition brings together a shared integrity and diversity to their practices, cultivated in the isolated rural location that they live, maintaining that 'if necessity is the mother of all inventions, then isolation is the bearer of creativity.'
The participating artists are; potter, Jim Barribeau, weaver, Karyn Davis, sculptor, Maria Lee, multimedia artist, Verity Scarlett, glass artist, Emily Napolitano and painter, Jacqui Gibbs-Chamberlain.
Jim Barribeau began working with clay, walking across Cornwall as a student and visiting Bernard Leach Pottery in St. Ives, influenced by the aesthetics of Leach and Hamada and its influence on studio pottery. Barribeau works with locally sourced ashes; cabbage tree, walnut, flax, and manuka.
Karyn Davis is a textile artist, currently weaving and exploring her materials from a creator's point-of-view as opposed to those of an observer. Sculptor, Maria Lee pushes the limits of her stone, in both form and finish, exploring the boundaries between raw rock and manipulated polished finished stone, her early works were functional pieces but increasingly exploring sensual female forms and positive expressions of sexuality.
Painter, Jacqui Gibbs-Chamberlain presents a new series of works, following development from previous paintings, layering colour and charcoal to create multi-dimensional, translucent images in which the charcoal takes centre stage. Verity Scarlett takes inspiration from nature, her passion for natural objects the main subjects of her drawing, painting and sculpture in both New Zealand, and the UK where she lived for 19 years.
Glass artist, Emily Napolitano moved from Chicago to New Zealand in 2010, recently creating a series of Day of the Dead Sugar Skulls, looking at the relationship between our bones, our life essence, and transition to the Other Side.
DETAILS
Port Levy's Got Talent
Eastside Gallery, Linwood Arts, 388 Worcester St, Christchurch
7 - 26 November
IMAGE
Jim Barribeau, Untitled, Coarse stoneware clay body, dry dolomite glaze, fired in an electric kiln