Pop Culture Meets Nature - The Gray Family- 12-30 January 2021
Tue 12 Jan 2021, 05:30 pm
Eastside Gallery
388 Worcester St.
Christchurch
Exhibitions, Arts Culture, Visual Arts,
Wheelchair access, Accessible toilets, Mobility parking
https://www.instagram.com/linwoodartsandeastsidegallery/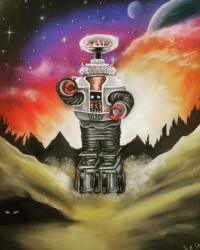 The Gray family exhibition is a celebration of a family reuniting to express its art through two important themes that they are passionate about: Pop Culture and Nature. It's about creative wellbeing, relationships and finding a space where a family can come together in fellowship to socialise and create art. Features works by Melissa Gray, Kerry Gray, Jamie Gray, Kristel Huysegems, Hope Henry, Amber Panere and Mike Williams.

Within us birds fly freely alongside superheroes, while wonderful creatures wait to be drawn in a place of beauty and nostalgia - where Pop Culture meets Nature!
Opening Event: Tuesday 12 January 5.30-6.45pm.
Hosted by: Eastside Gallery, Linwood Arts, 388 Worcester St, Christchurch.
Opening Hours: Wednesday-Saturday 11am-5pm, free onsite parking.
Image: "Warning, Danger" by Kerry Gray, pastel, 30 x 40 cm.