Pete Wheeler- Avant-Garde Fatigure. New Paintings at The Central Art Gallery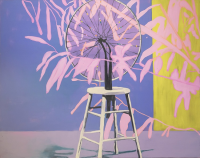 Pete Wheeler: Avant-Garde Fatigue
I love painting. Even after multiple millennia it isn't a medium that grows stale for anyone bar the exceptionally jaded. I am also a fan of Pete Wheeler's work, his exploration of oil paint, oil stick and spray paint, so it's always a pleasure to see one of his shows. He has a particularly interesting feeling for colour, form and the relationship between the figurative and gestural abstraction. In his new show Avant-Garde Fatigue the imagery seems to have ceased to be an arbitrary excuse to arrange paint and now takes on a greater narrative significance.
Marcel Duchamp is a kind of stalking horse for the show. A reoccurring motif is the bicycle wheel from Duchamp's 1913's readymade sculpture of the same name (where said wheel is mounted on a stool) which fulfils three functions – as compositional device, as weighty art-historical artefact, and presumably as a pun on the artist's name. In another painting a Matisse-esque spray of cyan leaves intervenes between the viewer and a spray-painted copy in fluorescent pink of what looks like John D. Schiff's iconic c.1957 photographic portrait of Duchamp.
When we remember that in 1918 Duchamp famously withdrew from the New York art scene to, as he said, play chess, the title takes on a more complex meaning. Is that the avant-garde fatigue in question? Is that something Wheeler feels too? Or is it a reference to the not-unfair observation that Wheeler's paintings are frequently more about the audience's retinal pleasure and the artist's material fascination with applying paint to flat service. I suspect there is something in that, given that the palette of these works rather strikingly recalls that of Henri Matisse at his most contrastingly lurid, and Duchamp was critical of Matisse for being predominantly "retinal" rather than specifically intellectual.
Does Wheeler just want to be left alone to paint however he damned well wants, to be (as Duchamp said of the makers of retinal candy) "stupid like a painter"? Some of the paintings contain the word "ta-da" in jaded lettering as if to say, "see, I can perform those tricks for you too! Is this what you want?" The self-identification seems explicit in one work where Wheeler superimposes a coat of arms with the Catherine wheels of the Wheeler family over a Duchamp bicycle wheel as if Wheeler is announcing a kind of Foucauldian genealogical relationship with Duchamp. Or as a nemesis?
There is a wonderful vibrancy to these works. The influence of Wheeler's years in Berlin are clearly there in the methods of visual deconstruction, ironic art-historical narratives and organisational figurative ambiguities absorbed from Sigmar Polke, Martin Kippenberger, Jörg Immendorff and Gerhard Richter. These paintings are so fluent, their synthesis completely resolved. They are delightful.
Pete Wheeler: Avant-Garde Fatigue
The Central
31 January – 1 March 2020
IMAGE
Pete Wheeler, Self Titled #2, 2019/20, oil paint and oil stick on canvas