Halswell Pottery Group 50th Anniversary Exhibition
View all Dates
Sat 25 Sep 2021, 10:00 am - 4:00pm
Halswell Pottery Group
9 Candys Road Halswell
Christchurch
Sun 26 Sep 2021, 10:00 am - 4:00pm
Halswell Pottery Group
9 Candys Road Halswell
Christchurch
Fri 01 Oct 2021, 11:00 am - 7:00pm
Halswell Pottery Group
9 Candys Road Halswell
Christchurch
Sat 02 Oct 2021, 10:00 am - 4:00pm
Halswell Pottery Group
9 Candys Road Halswell
Christchurch
Sun 03 Oct 2021, 10:00 am - 4:00pm
Halswell Pottery Group
9 Candys Road Halswell
Christchurch
Free Entry Event, Exhibitions, Community Arts, Crafts, Shopping Retail
Wheelchair Access, Mobility Parking
halswellpotters@gmail.com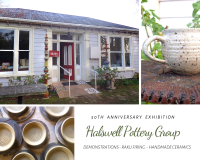 Celebrate our 50th anniversary with us! Watch Raku firing & pottery throwing demonstrations on September 25th & October 2nd. On September 25th & October 2nd there will be the opportunity to decorate a ceramic tile and see it fired in front of you, in our raku kiln.
Wide range of ceramics available to browse & purchase. Choose from functional wares, large and small sculptures. Also on display will be a retrospective exhibition of pottery created by our members over the last 50 years.
Child-friendly & car parking available.
Event Dates
Halswell Pottery Group
Christchurch
9 Candys Road Halswell

Sat 25 Sep 2021, 10:00 am
Sat 25 Sep 2021, 04:00 pm
Halswell Pottery Group
Christchurch
9 Candys Road Halswell

Sun 26 Sep 2021, 10:00 am
Sun 26 Sep 2021, 04:00 pm
Halswell Pottery Group
Christchurch
9 Candys Road Halswell

Fri 01 Oct 2021, 11:00 am
Fri 01 Oct 2021, 07:00 pm
Halswell Pottery Group
Christchurch
9 Candys Road Halswell

Sat 02 Oct 2021, 10:00 am
Sat 02 Oct 2021, 04:00 pm
Halswell Pottery Group
Christchurch
9 Candys Road Halswell

Sat 02 Oct 2021, 10:00 am
Sat 02 Oct 2021, 04:00 pm
Halswell Pottery Group
Christchurch
9 Candys Road Halswell

Sun 03 Oct 2021, 10:00 am
Sun 03 Oct 2021, 04:00 pm
Halswell Pottery Group
Christchurch
9 Candys Road Halswell

Sun 03 Oct 2021, 10:00 am
Sun 03 Oct 2021, 04:00 pm