Summer blockbuster put together by Te Papa and Ngāi Tahu- Kura Pounamu
Mon 11 Mar 2019, 02:59 pm
Mon 03 Jun 2019, 05:00 pm
Canterbury Museum
Rolleston Avenue
Christchurch
Exhibitions, Carving, Maori Art, Canterbury Region
Wheelchair access, Accessible toilets, Mobility parking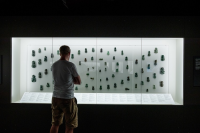 Kura Pounamu: Our Treasured Stone
Andrew Paul Wood
Canterbury Museum is currently host to Kura Pounamu: Our Treasured Stone, a summer blockbuster put together by Te Papa and Ngāi Tahu, and it is absolutely a must see. It's wonderfully comprehensive, explaining the geological origins and types of pounamu and showcasing examples of the art of its carving from toki (adzes) dating back eight or nine centuries and from the earliest days of Polynesian settlement to contemporary pieces.
It's an opportunity to familiarise yourself with the different types of pounamu – the more well-known and traditional green stones of kahurangi and kawakawa, the gold-flecked kokopu that has more recently become popular with carvers, and my favourite, the milky and translucent inanga, to name but a few, encompassing nephrites, jades and serpentines.
It can be a little overwhelming to have such a rich density of exquisite Māori taonga in one place, more than 200 pieces, seeing the sophistication of its forms evolving over time. This is particularly evident in a display wall of various hei tiki, but applies to all the taonga in the show, and ultimately it's an absolute joy to share space and time with. Pounamu carving being such a tactile art form, the impulse may be satisfied by one of the four touch stones, the largest of which, "Te Hurika," weighs in at a hefty 170kg.
Naturally an exhibition of this type is of great significance to Ōtautahi Christchurch, and Te Wai Pounamu, the South Island, as a whole. Generations of Ngāi Tahu crossed the Southern Alps to the pounamu beds of Te Tai o Poutini, the West Coast to trade with other iwi. Previously on display in Wellington at Te Papa from 2009 to 2011, and touring to China and France, here it takes on a new iteration with the addition of a section focussed on the role of Waitaha, Canterbury, Kaiapoi Pā and Te Tai o Poutini in the pounamu trade.
Of particular interest is the Te Aika hei tiki, a rare survivor from the sacking of Kaiapoi Pā by Ngāti Toa in 1831 and one of the earliest known hei tiki carved in the South Island. This is the start of a lineage that leads to a piece like the hei tiki carved in 2008 by Lewis Tamihana Gardiner of Ngāi Tahu, Te Arawa, Ngāti Awa, and Te Whānau-a-Apanui. The carving of pounamu is an art that is paradoxically ancient, contemporary, and timelessly eternal.
Kura Pounamu: Our Treasured Stone, Canterbury Museum, 15 December 2018 – 3 June 2019
IMAGES
Kura Pounamu: Our Treasured Stone , courtesy of the Canterbury Museum