Rachael Polson " Play ! "
8 days ago, Sat 16 Jan 2021, 11:00 am
77 Art+Living
77 Main Street
Fairlie
Exhibitions, Painting, Drawing, Printmaking,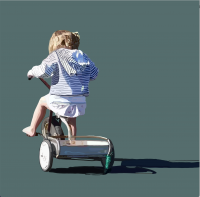 This exhibition celebrates the joy of play and the moments that occur each day in childhood. Historically children have often been portrayed as little adults, as a symbol of innocence or have been missing from art altogether. Here, Polson shows us children intent in their moments of play; their development of friendships; their mastery of skills. They are capable, focused and purposeful. These are not portraits of individual children but rather seek to draw our attention to the precious and fleeting moments that occur in the time that is childhood.
These paintings and prints were developed from a series of photos taken of young children at kindergarten* as well as close family members*. Digital drawings were completed during our recent Covid-19 lockdown. Some were printed and others served as studies for the oil paintings.
Rachael Polson completed her Bachelor of Visual Arts with Honours from the Adelaide Central School of Art, South Australia in 2009. Notably she has exhibited at the Aigantighe Art Gallery in Timaru, Adelaide Central Gallery in South Australia, Seedling Art Space Adelaide and receiving the Helpmann Ashington Mentorship with NZ artist, Judy Millar in 2011.
She is a qualified early childhood teacher with a degree in Education and Psychology. She is currently studying a Masters to become an Educational and Developmental Psychologist.
*(with permission from their parents)