Sculpture on the Peninsula 2019 - A Call to Artists for Submissions
Fri 08 Nov 2019, 05:00 pm
Sun 10 Nov 2019, 05:00 pm
Loudon Farm
Banks Peninsula, Canterbury
Lyttelton
Arts Culture, Visual Arts, Exhibitions, Festivals
Grand Opening $75.00 and Weekend Entry Adults $15.00 Children under 12 free
Sculpture on the Peninsula Lombardy Charitable trust
Artists submissions (working drawings,photographs)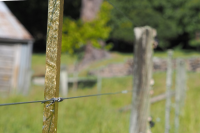 Taking place every two years at Loudon Farm on Banks Peninsula, in 2019 Sculpture on the Peninsula is scheduled from 8th to 10th November. Established in 2000 it remains the largest sculptural event in the South Island, bringing together the work of senior, mid-career and emerging artists.
Administered by the Lombardy Charitable Trust, it encompasses installation-based and site specific works, alongside free-standing sculpture. It is an arts event founded upon the vision of Governors Bay resident, Geoff Swinard and his enthusiasm for the arts and plans to create a fundraising event for the Cholmondeley Children's Centre in Governors Bay, the residential care facility for children in crisis. Administered by the Lombardy Trust for the past 18 years, in 2017, $100,000 was raised from proceeds of the event for Cholmondeley.
All who have attended previously will have fond memories of Sculpture on the Peninsula as a family and community occasion, with the Loudon Farm Sculpture Trail creating a experience all of its own, a walking tour with the company of others and a certain amount of exercise and respite from the suburbs of Christchurch.
Over its history Sculpture on the Peninsula has featured the work of numerous prominent artists, including Paul Dibble, Cheryl Lucas and Hannah Kidd, (winner of the 2017 award), and selection panels and judges of well-known arts professionals. In 2019, the panel selecting submissions for its bi-annual award are Lara Strongman, Senior Curator at the Christchurch Art Gallery Te Puna o Waiwhetu and Gwynneth Porter, arts writer, curator and academic. Valued at $10,000 the Sculpture on the Peninsula Award will be judged by Jenny Harper, former director of the director of Christchurch Art Gallery. In addition, a popular vote for all works exhibited, the People's Choice Award valued at $1,500, will be presented to an artist for the public's favourite voted sculpture.
Submissions from artists for Sculpture on the Peninsula are requested now. For conditions and details of entry go to: https://www.sculpturenz.co.nz/sculpture-on-the-peninsula-submissions Artists are requested to supply photographs and or working drawing with their submission no later than 5th July 2019. Please post or email to: Gill Hay, 47 Reserve Terrace, Lyttelton 8082 or gill@sculpturenz.co.nz
IMAGE
Cheryl Lucas, Harder Larder, recipient of the Sculpture on the Peninsula Award, 2011. Judge's Comments– Warren Feeney. "Sited in the Loudon farm's slaughterhouse, Cheryl Lucas' hanging ceramic sculptures appeared as both vessels or containers and the remnants of hanging carcasses - A kitchen larder close to the smell of death and a work rich in narratives: The land as benefactor to humanity's needs and a landscape soiled in blood."
Matt Akehurst, The Land of Riches, 2017