Dorothy Helyer- Soundings Too
Wed 08 Sep 2021, 12:00 am
Chambers Gallery
80 Durham Street, Sydenham
Christchurch
Visual Arts, Painting, Exhibitions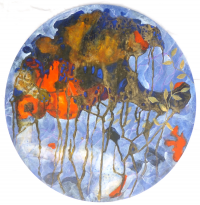 To anyone familiar with Dorothy Helyer's paintings, the title of her exhibition, Soundings Too, will immediately make a connection between her dedication to both music and the visual arts. (She notes that her father loved to paint in oils or sing in operas put on by the Dunedin Opera Company).
The title could be a reminder of her association with both practices, the musicality of her drawing and painting, its colour and lyricism, also a reminder of Kandinsky's thoughts and theories on painting, that colour is the artist's keyboard.
Helyer backgrounds Soundings Too, as an exhibition that brings together other important aspects of her previous interests, including microscopic and cellular images and dendritic forms and the multi layering and excavation of the surfaces of her paintings. 'I have come to the realisation that my artistic practice is driven by the complete unpredictability of my painting process. I find it really exciting that there is no certainty of outcome when I impulsively experiment in an effort to discover how the paints and mixed-media might react with each other'.
'In my previous exhibition, Soundings, 2018, the initial spur for me was El Mundo Submarino, a small book of photos from the world under the sea. That book highlighted species of sponges, corals and other amazing little sea creatures that have been used for therapeutic drug research and are now in great danger because of the threat of climate change. The paintings in Soundings Too have moved on from my vision of these internal seascapes, moving towards more abstract allusions that express my everyday actuality and metaphorically plumb the inner depths of thoughts and emotions'.
IMAGE
3. Dorothy Helyer, The Dream in the Drawer, 2021, acrylic, mixed media