Blog
ArtBeat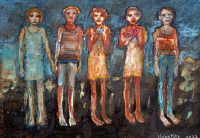 Peter Cleverley has been painting and teaching for more than forty years. A graduate from the Dunedin School of art in 1974, he retired from teaching at the School in 2016 and exhibits regularly throughout Aotearoa.
Cleverley is considered an expressionist painter, whose place and time associates him with a generation of New Zealand artists that include Jeffery Harris and Philip Trusttum. Yet, there are other aspects to Cleverley's practice that are of significance and worthy of more attention, the territory that he shares with artists that include Richard Killeen and Seraphine Pick. All three are interested in the specific and peculiar nature of human behavior. Cleverly is especially conscious of our tenuous place in time, our hesitations, doubts and fragmented moments of bliss and near certainty.
It is a condition that is alluded to in Never There Yet, the personalities of all his painting, sharing the same space with one another, yet virtually unaware of one another's presence, their subjects, looking out at us as visitors, almost seemingly mindful of painting's capacity to create ambiguous and unresolved encounters with the reality of the ebb and flow of our state of being.
The floating heads in Cleverley's painting The Second Moon are conceived and crafted as a narrative all of their own. Yet, as a painter, Cleverley is every bit as interested in the floating blue presence meandering around these subjects, offering the promise of a site or location, yet continually shifting our perspective in place and time. Cleverley's nearly coherent universe admits to its promises of reality, but it is an idea that is only sustained by a shared recognition of such an experience as being tenuous. Certainly, Never There Yet is an exhibition that has much to say, reminding us about a fragility and a resilience, fundamental and essential to the nature of human behavior.
DETAILS
Peter Cleverley, Never There Yet
Chambers Gallery, 80 Durham Street, Sydenham
9 – 26 February
IMAGE
Peter Cleverley, The Second Moon, 2017, oil on canvas