Blog
ArtBeat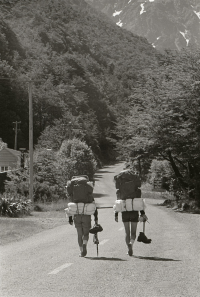 As artist Matthew McIntyre Wilson, (Taranaki-NgāMahanga, Titahi) comes closer to the completion of his residency at Oxford Gallery toi o Waimakariri, its exhibition programme steps up again and surprises in its increasing commitment to the support of artist's and the wider picture and possibilities of their arts practices.
Curator Areta Wilkinson, (Ngāi Tahu, Ngāti Irakehu and Ngāti Wheke) further highlights the importance of direct community engagement at the gallery with its recent Matariki Community Whetū Cluster, inviting locals and visitors to weave and/or work with others to make whet (stars) for a Matariki cluster.
In August this principle of collaboration extends also to Wilkinson's invitation to artists from throughout Aotearoa to take the risk of stepping outside their comfort zones of the city into a rural setting and wilderness, participating in a group exhibition and tramping in the local hills. No2. ART TRAMP SHOW hosts an impressive line up: Mark Adams, Greta Anderson, Eymard Bradley, Mitchell Bright, Mary-Louise Browne, Conor Clarke, Bruce Connew, Chris Corson-Scott, Bret de Thier, Jane Dodd, Beth Ellery, Marti Friedlander, Samuel Hartnett, Murray Hedwig, Ella Hickford, Craig Hilton, Joseph Jowitt, Jae-Hoon Lee, Ian Macdonald, Richard Mahoney, Andrew McLeod, John Miller, Haruhiko Sameshima, Stephanie Sheehan, Ann Shelton, Timothy Veling, and Hannah Watkinson.
Wilkinson breaks down the details: 'Over the opening weekend the tramping artists are in residence before heading onto the hills. They will hold gear talks, a boot repair demonstration with field cooking, and film and slideshows of their tramping trips. No2 ART TRAMP SHOW brings together two endeavours: individual art practices and a group practice of standing up next to the mountain and risking one's neck! The exhibition opening includes a recommendation of good affordable local accommodation nearby and also recommended is the Sunday's talk and cooking lunch. Koha is appreciated.
DETAILS
No2 ART TRAMP SHOW
Oxford Gallery toi o Waimakariri
72 Main Street, Oxford
25 August – 18 September
Matthew McIntyre-Wilson: Artist in Residence, Until 7 August 2022
IMAGES
Ann Shelton,The Ingénue, Yarrow (Achillea sp.), 2015, pigment print
arti Friedlander (1928 – 2016) Tramping, Arthur's Pass, South Island (n.d) (from Larks in a Paradise, 1974)