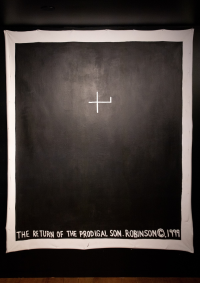 2020 - 2021 could be the moment in which artist-run spaces in Ōtautahi rediscovered themselves in the central city, their origins in the High Street Project in 1992, followed by twenty artist-run spaces since, the most recent including the opening of Hot Lunch and The Den, also on High Street.
Mercury Tower is one more unanticipated addition from two alumni of the Elam School of Fine Arts, Jasper Massov and Joshua Freeth. They are the gallery directors, managers and curators for an artist-run space that opened 22 January at 324 Barbadoes Street, although its first exhibition was held in 1965 in its original location in Barbadoes Street. Their opening exhibition in 2022, A Retrospective is a survey of sorts of a history of contemporary New Zealand art, including a work by M. T. Woollaston and works by Mercury Tower.
A Retrospective referenced contemporary New Zealand art and Mercury Tower as an artist-run space and the kind of template that such institutions are assumed to represent. A critique of assumptions about its responsibilities and agendas encompassed such things as young and unknown artists, a temporary venue, its distance from the canon of New Zealand art and the question, could an artist-run space have other agendas?
Both Massov and Freeth agree that the idea for A Retrospective came from both artists when they were deciding what the first show would be. Massov recalls: 'Artist-run galleries are opening all the time. For our generation it has become a formula. Whether it's Christchurch or Auckland, they open; do essentially the same things for 12-18 months and then close without a whisper. The conventions are established, all you need to do is generate a name and show your friends' art. The notion of being part of some underground new wave has become such a cliché that in people's minds it no longer entails doing anything genuinely exploratory. It's boring.'
The list of artist's names for A Retrospective is impressive. Apart from Woollaston, the gallery handout include: Billy Apple, Simon Denny and Merylyn Tweedie. Massov comments: 'I was talking to an older friend in the art world and one of his concerns with this show was how it capitalises on the cult of personality that exists in the art world. There's something I like about that whole phenomenon though. Art is a very personal enterprise in a very small world that in lots of ways is governed by relationships and reputations. That is the reality whether people like it or not. Those stories often mean more to people than the art works, and it's not self-evident to me that that is a bad thing.'
Look close at the handout and the list of artists' names are in italics, with "Mercury Tower" assuming credit for the majority of works, and that complicates the exhibition further. The appropriation of a painting by one Freeth's art school tutor's Peter Robinson is titled, The Prodigal Son Return, Peter Robinson, 1999 and dated 2022. Freeth remembers his time at Elam. 'Peter had a student when I was at Elam who was using symbols in his work, and we had a critique as a group. I knew Peter had used the same symbols and language in his own work, but he seemed to have an issue with this student using them. Peter was able to skilfully dance on that line of what you can and can't do, and maybe he wouldn't have, had he gone to uni in 2015. It's important for a healthy society that artists are able to do that.'
Yet, A Retrospective is also more than about being merely disruptive. Rather it opens up wider conversations. Massov comments, 'the art world is at a point where there are questions that we need to ask about what we're all doing. It's stagnating. One of those questions is how do we relate to the canon, and what kind of art do we allow to be a part of the canon today, and which kinds of artists? I mean are people into where things are at? Are they excited by what's happening culturally? I don't think so. And if not, why don't they do anything about it? Everyone wants to be edgy without being edgy. And that question extends far beyond the sixty years in which Mercury Tower has existed.'
DETAILS
Mercury Tower
324 Barbadoes Street,
Open by appointment. Call or text 027 3125822 to arrange
IMAGES
Arter, Simon Denny, 2015, Mercury Tower, 2022
The Prodigal Son Returns, Peter Robinson, 1999,Mercury Tower, 2022