Blog
ArtBeat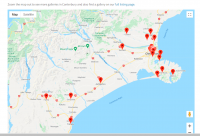 The lockdown from March 2020 meant that for Artbeat, not only was the publication of its June issue solely on its website but also a recognition that its online map page needed to be more accessible, interactive as a comprehensive experience about locating all galleries in Ōtautahi Christchurch and Waitaha Canterbury with a description of exhibition programmes, artists and agendas.
In principle, this was also about delivering a tangible experience of the quality and diversity of galleries throughout the region. In part, this is conveyed through the regularity of Artbeat as a monthly newspaper, detailing a changing schedule of exhibitions and events, yet of equal importance is the accessibility of where those galleries are. How can they be rapidly located? What are they about and what do they represent?
With funding from Creative New Zealand for Artbeat's website, and through discussions with the website's developer, Flightdec, Google maps has become an important part of the site. Currently 48 galleries are featured on the map. Geographically, these extend from the Aigantighe Art Gallery in Timaru to Chamber Gallery Rangiora and from the Akaroa Art Gallery to 77 Art + Living gallery in Fairlie. Plus, there are 34 galleries detailed in Ōtautahi.
Searching for any gallery on the website provides an experience of the scale of the region's arts infrastructure. One that I imagine, many will be unaware of. It has been welcome news to receive acknowledgment of the value of this as a resource and its potential for local residents and visitors from Ōtautahi Central City Business Association Manager, Paul Lonsdale and communications advisor at Christchurch City Council, Dean Kilbride.
To take the online tour, go to https://artbeat.org.nz and click on the large "Galleries" at the top left. This will take you to "Locate a Gallery" with the full Google maps listings and option of going to the "full listing page.' Each gallery on the map has its own red tear – click to find a description of its programme.
If you know of a gallery that is not listed please let me know at: artbeatwebsite@gmail.com
IMAGES
Google Maps: Galleries in Ōtautahi with Eastside Gallery's description of its programme
Google Maps: 48 Galleries in Waitaha Canterbury