Article
ArtBeat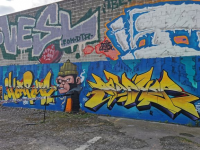 It might just be me. Reading a recent article regarding the purchase of the maligned Malvern House building on Hereford Street ('Fed-up neighbour buys central Christchurch 'eyesore' bringing down the block', Stuff, Feb 2, 2021), I was struck by how my perception of the area in question was in stark contrast to the sentiments expressed. The story outlined the motivation of a local businessman in buying the building, one of the notorious 'Dirty Thirty' considered responsible for holding back the city's recovery. The building is noted as an eye-sore, ugly, a 'war-zone' and the city's most-tagged building. Yet as property owners and developers were interviewed, repeating a desire for five-star hotels or tourist apartments, I couldn't help but think of what types of spaces truly make a city interesting and vibrant.
While its forthcoming demise (or rejuvenation) was celebrated in the story, Malvern House and it's surrounding area have become one of my favourite locations in the city, a disruption to the new profile that still found a purpose, notably through artistic interventions. While the monolithic building is covered in graffiti tags and is clearly deteriorating, with broken windows and missing fixtures, the lower area features a revolving number of paintings and additions, from the 'staircase to nowhere' brought to life by Jacob Yikes' characterisations and Wongi 'Freak' Wilson's giant white tiger, to smaller interventions like a tiny Levi Hawken concrete tile or an exploding rocket ship by Cheros One.
The Hereford Street spot is a space I have regularly shown visitors. It is an area I have explored at night (it is well-lit and quite striking without the bustling daytime noise of the city), while I have also interviewed artists painting murals on a Monday morning in the same location, highlighting its ability to function outside expectations.
The Hereford Street space would ultimately disappear with the rebuild or refurbishment of Malvern House, a fate similar to many of the post-quake areas of the city where urban art flourished. While the size of the area means it was always destined to be transformed I will be saddened by this loss. Of course, my opinion is in stark contrast to property developers, who consider such areas in terms of commercial value and potential. Yet urban art has long harnessed those spaces which might be thought in-between or threshold, sites that operate outside of commercial concerns. In contrast to the increasing trend of contemporary muralism as a corporate partnership, such spaces offer more intrepid urban artists the chance to alter the cityscape with messages, icons and arguments, reminders of the diverse make up of an urban populace, where not everyone is an investor, but almost all are invested.
While they may be seen as unattractive to some (perhaps many), spaces like the Hereford Street spot add variety and break up the construction of the city as a site of commercial transactions.
In Christchurch, the myth of a 'finished' rebuild will never truly be attained, and even a city filled with hotels and tourist apartments will never command every nook and cranny. The more a city is designed and developed, the more important alternative 'in-between' spaces become as sites of disruption,expression and exploration. While many will be glad to see Malvern House replaced with a pristine reincarnation, it will not hold my attention. I will seek out those in-between spaces. They are always there. I guess one's eyesore is another's art gallery.
IMAGE


Various works in the Hereford Street area surrounding Malvern House, including a collaboration between Ikarus, Ysek7 and Dcypher.