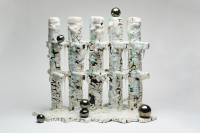 Andrea du Chatenier is a ceramic artist and educator who makes vessels that often appear to be in a progressive process of meltdown .
The recipient of the prestigious Portage Ceramic Residency Award in 2017, du Chatenier was also the winner of the Wallace Arts Trust Vermont Award in 2018. Curator and judge for the 2017 Portage Award, Emma Bugden commented on du Chatenier's award winning work, Untitled (Yellow Stack): 'The casualness of this sculpture belies a deft mastery of technique; it takes a specific kind of energy to be this relaxed'. Both awards saw the development of new work for her exhibition, EIGENLEBEN ( German for "A life of its own") at the Sarjeant Gallery Te Whare o Rehua in 2020. Her solo exhibition at The National in June shares its title with the Sarjeant Gallery's with ceramics from the same period.
Du Chatenier's hand-built glazed vessels has been described as 'grotesquely beautiful... eschewing anything resembling a vessel, these elaborate constructions privilege surface and exuberant glazing techniques'. Du Chatenier would no doubt agree, commenting in an interview that she wants people 'to reach out and touch, or even better, lick the work.... to truly understand these works, the eye is not enough'. Yet, description of experiencing her ceramics is also qualified by their politics: 'That over-indulgence in surface over form is an inescapable aspect of growing up female. "Form" was always a masculine concept. Surface was defined as a type of feminine dress or skin'.
DETAILS
Andrea du Chatenier, EIGENLEBEN
The National, 249 Moorhouse Avenue, 2 - 27 June
IMAGE
Andrea du Chatenier,Arctic Fortress, 2020, ceramic